Final technical hearing summaries
The Hearings, Transcripts, and these Hearing Notes
The Final hearing phase with cross examination is organized such that "panels" of witnesses with expertise in issues relating to the Northern Gateway project are brought together to field questions about evidence that has been filed by them. If you wish to listen to the hearings live you can go to http://www.meetview.com/neb/. Transcripts are posted on a daily basis, as much as possible, and are available on the NEB website. Northwest Institute will review the transcripts and prepare notes for interested readers. The notes are available on this website and will be posted shortly after each hearing day.
Each session of the hearings begin with the chair's opening remarks, registration of appearances, and administrative matters. Transcripts then list the panels of witnesses who will be presented that day, and the list of intervenors' representatives, usually lawyers, who will be examining or questioning the respective panels.
The Panel is composed of Sheila Leggett (Chair), Kenneth Bateman, Hans Matthews.
The Applicant is Northern Gateway Pipelines. Their lead counsel is Richard Neufeld.
Intervenors and their legal counsel will be introduced as they appear.
References to locations in the transcripts are by paragraph number. 1 is the first paragraph of the first transcript from Whitecourt AB on October 10, 2010. The first paragraph of the Questioning Phase of the hearing, on September 4, 2012, is 14343.
The schedule for the Final Technical Hearings was as follows. The hearings finished on June 24, 2013.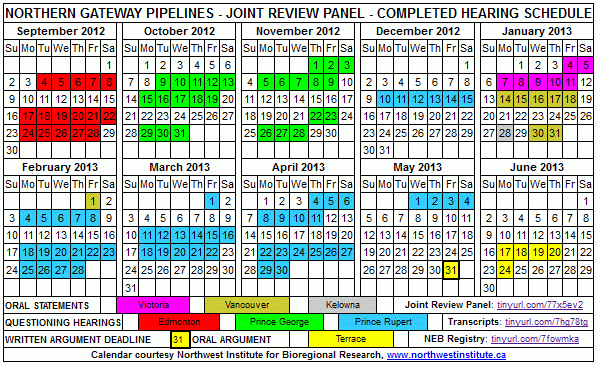 View summary from this hearing (embedded PDF)
View summary from this hearing (embedded PDF)
View summary from this hearing (embedded PDF)
View summary from this hearing (embedded PDF)
View summary from this hearing (embedded PDF)
View summary from this hearing (embedded PDF)
View summary from this hearing (embedded PDF)
View summary from this hearing (embedded PDF)
View summary from this hearing (embedded PDF)
View summary from this hearing (embedded PDF)
View summary from this hearing (embedded PDF)
View summary from this hearing (embedded PDF)
View summary from this hearing (embedded PDF)
View summary from this hearing (embedded PDF)
View summary from this hearing (embedded PDF)
View summary from this hearing (embedded PDF)
View summary from this hearing (embedded PDF)
View summary from this hearing (embedded PDF)
View summary from this hearing (embedded PDF)
View summary from this hearing (embedded PDF)
View summary from this hearing (embedded PDF)
View summary from this hearing (embedded PDF)
View summary from this hearing (embedded PDF)
View summary from this hearing (embedded PDF)
View summary from this hearing (embedded PDF)
View summary from this hearing (embedded PDF)
View summary from this hearing (embedded PDF)
View summary from this hearing (embedded PDF)
View summary from this hearing (embedded PDF)
View summary from this hearing (embedded PDF)
View summary from this hearing (embedded PDF)
View summary from this hearing (embedded PDF)
View summary from this hearing (embedded PDF)
View summary from this hearing (embedded PDF)
View summary from this hearing (embedded PDF)
View summary from this hearing (embedded PDF)
View summary from this hearing (embedded PDF)
View summary from this hearing (embedded PDF)
View summary from this hearing (embedded PDF)
View summary from this hearing (embedded PDF)
View summary from this hearing (embedded PDF)
View summary from this hearing (embedded PDF)
View summary from this hearing (embedded PDF)
View summary from this hearing (embedded PDF)
View summary from this hearing (embedded PDF)
View summary from this hearing (embedded PDF)
View summary from this hearing (embedded PDF)
View summary from this hearing (embedded PDF)
View summary from this hearing (embedded PDF)
View summary from this hearing (embedded PDF)
View summary from this hearing (embedded PDF)
View summary from this hearing (embedded PDF)
View summary from this hearing (embedded PDF)
View summary from this hearing (embedded PDF)
View summary from this hearing (embedded PDF)
View summary from this hearing (embedded PDF)
View summary from this hearing (embedded PDF)
View summary from this hearing (embedded PDF)
View summary from this hearing (embedded PDF)
View summary from this hearing (embedded PDF)
View summary from this hearing (embedded PDF)
View summary from this hearing (embedded PDF)
View summary from this hearing (embedded PDF)
View summary from this hearing (embedded PDF)
View summary from this hearing (embedded PDF)
View summary from this hearing (embedded PDF)
View summary from this hearing (embedded PDF)
View summary from this hearing (embedded PDF)
View summary from this hearing (embedded PDF)
View summary from this hearing (embedded PDF)
View summary from this hearing (embedded PDF)
View summary from this hearing (embedded PDF)
View summary from this hearing (embedded PDF)
View summary from this hearing (embedded PDF)
View summary from this hearing (embedded PDF)
View summary from this hearing (embedded PDF)
View summary from this hearing (embedded PDF)
View summary from this hearing (embedded PDF)
View summary from this hearing (embedded PDF)
View summary from this hearing (embedded PDF)
View summary from this hearing (embedded PDF)
View summary from this hearing (embedded PDF)
View summary from this hearing (embedded PDF)
View summary from this hearing (embedded PDF)
View summary from this hearing (embedded PDF)
View summary from this hearing (embedded PDF)
View summary from this hearing (embedded PDF)
View summary from this hearing (embedded PDF)
View summary from this hearing (embedded PDF)